December 12, 2011 in Announcements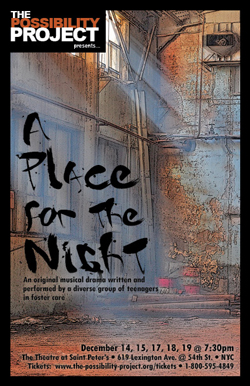 Hey all,
Just a reminder– TREA is going on a field trip this Thursday evening to see a theater performance called "A place for the Night" put on by the Possibility Project (formerly known as City at Peace). Teens write, produce and perform original shows based on different themes each year. This performance in particular illustrates the lives and experiences of young people in foster care. The shows are always incredibly engaging and honest, and more than anything show the power youth have in creating social change through creative means.
The show starts at 7:30pm (on Thursday, December 15th) and we will probably be back to Queens by 10pm. We have 12 student tickets so please reply to this email or let Jose know if you are interested! We will need permission slips as well. The show is FREE and will be performed at: The Theatre at Saint Peter's on Lexington Avenue and 54th Street. Jose and Emily will meet students at the Renaissance School and head to the show together. Please join us!
More info about the show can be found here:
http://the-possibility-project.org/get-involved/attend-a-show/
Also— TREA's OPEN MIC is the following Thursday, on December 22nd, where you can share poetry, music, art, etc. so get psyched for that!
Thanks!!
TREAfolks.